WE CUSTOMIZE FOR YOU!
High Quality Customizations of All Vehicle Types
While we specialize in Fire and Rescue vehicle customizations, we can customize anything you want. You dream it and we'll build it! Browse through our web site and check out the many different custom aluminum fabrications we've performed for our satisfied customers.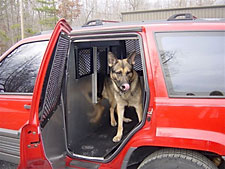 Jackson Creek Mfg., Inc. is located in Denton, NC and produces not only standardized products but also specializes in custom aluminum products. We are large enough to produce large quantities yet small enough we can produce that one custom item you need without incurring large set-up expenses that can be experienced at larger shops.
Our company was founded about 15 years ago and for several years produced products primarily for the hunting dog market. Over time we started servicing other markets as well. From animal transportation to fire and rescue equipment, we have been able to help people design products that meet their needs and give them years of service and satisfaction.
We welcome the opportunity to work with you whether you only need one item or one thousand. Call or come by. We look forward to working with you!